Progressive Rapier Tourney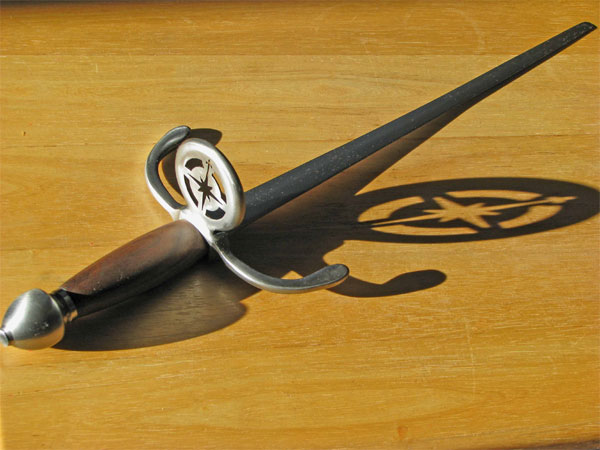 To all Rapier combatants do We Anne and Hrodir challenge all to a Progressive Tourney to be held in three locations throughout Northshield. The first tournament will be held at "Hertzkrieg" in the College of Svaty Sebesta on 2/5/11, the second will be at "A Sworded Affair" in the Barony of Nordskogen on 3/5/11, and the Final Tournament will be held in Shire of Falcon's Keep at "Liars, Cheats, and Thieves" on 4/2/11.
The tourney will start as a Round Robin, from the Round Robin the top eight Rapier fighters will advance to a 2 out of 3 rounds(bring your best) double elimination.
The scoring for the tournament will be as follows:
8th place - 1 point
7th place - 1 point
6th place - 1 point
5th place - 2 points
4th place - 3 points
3rd place - 4 points
2nd place - 5 points
1st place - 6 points
The winner of the Progressive Tournament will be the highest combined score of the Three Tournaments and declared champion at Falcon's Keep, thus winning the "Favor of the Crown".
In Service to the Dream,
Anne and Hrodir
| | | | | |
| --- | --- | --- | --- | --- |
| | Round 1 | Round 2 | Round 3 | Total |
| Lord Ambrose von Pasau | 6 | 4 | 5 | 15 |
| Don Edward of Kent | 5 | 3 | 4 | 12 |
| Lord Tomas Ordones | | | 6 | 6 |
| Don Trystan der Facheltrager | | 6 | | 6 |
| Lord Dauyd Straquhyn | | 5 | | 5 |
| Don Niccolo Falconetto | 4 | | | 4 |
| Lady Dejaneecie Amidarium Vu | 3 | | | 3 |
| Don Jock McKee | | | 3 | 3 |
| Don Charismos of Lacedaemon | | | 2 | 2 |
| Baron Geoffrey of Warwick | 1 | 1 | | 2 |
| Lord Jean-Robert LeMarchand | | 2 | | 2 |
| Lord Sam Brown | 2 | | | 2 |
| Lord Antonio De Vincenzi | 1 | | | 1 |
| Dante Falconis | | | 1 | 1 |
| Baron Illya Mstislavich | | 1 | | 1 |
| Lord Lucius Marius Lupus | | | 1 | 1 |
| Lord Markus Siggardsson | | 1 | | 1 |
| Lord Remy | | | 1 | 1 |
| Lord Thomas du Crosbie | 1 | | | 1 |