Ciarán & Elis
Their Royal Highnesses of Northshield
Crowned Prince and Princess of Northshield at Her Royal Majesty Jehanette's Crown Tournament on the 12th day of October in the year 2019 AS 54.
Their Royal Highness's Persona Details
Prince Ciarán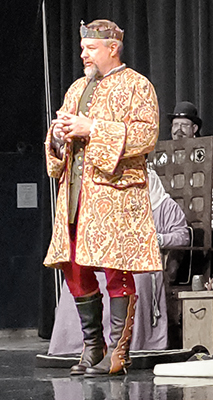 Ciarán likes to play a variety of times and regions in the framework of the SCA, starting with Scottish near the turn of the 1st millennium to a Hospitaller near the end of the Crusades.
Ciarán Mac Martin
mka David Bloom
another-email@website.com
Phone:
(719) 354-5520
Please text if at all possible and add your name.
Princess Elis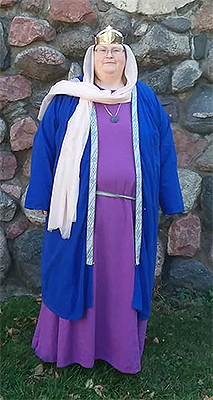 Elis Godbeare likes to play in the early period eras of 10th century Ireland and Anglo Saxon England, sometimes traveling to the Roman empire and on special occasions medieval Japan. Elis is interested in the fiber arts especially knitting, sewing, jewelry making and bookbinding.
Elis Godbeare
mka Anne Hinseth
712 E Main #A
Vermillion SD 57069
another-email@website.com
Phone:
(605) 659-0227
No phone calls before 7am or after 10pm
Royal Progress
Please see the Kingdom of Northshield
Calendar
for current event listings.
Royal Preferences
His Highness's Preferences
Colors: Blue, orange, and white (ie Denver Broncos) Also likes the colors of the Kingdom which are His heraldic colors
Food Allergies: None
Likes:
Beverages: Water, Beer, Root Beer
Food: Cookies, Steak, Foods of all cultures
Dislikes: Liquor, Unpeeled Peaches, Shellfish
Her Highness's Preferences
Colors: Northshield colors, blue, green, and jewel tones
Food Allergies: None
Her Highness is a type 2 diabetic and follows a low sugar, low carb diet. Feast stewards should not feel like they need to change the menu for her Highness. Artificial sweeteners are the devil and are not wanted here. Due to her diabetes, Her Highness DOES NOT DRINK ANY ALCOHOL.
Likes:
Beverages: Water, tea(black teas are best especially Lady Grey or Earl Grey), Kevita sparkling probiotic drinks - lemon ginger and strawberry, acai, coconut are her favorites
Food: Meat, cheeses that don't smell like feet, roasted vegetables, candied peel especially orange Rosalia makes these awesome cookies that are to die for
Dislikes: Seafood, cucumbers, celery, coffee, iceberg lettuce, raisins, alcohol
overly perfumed items - fragrance free or light scent prefered
Heraldic
Her Highness has specifically requested not to be refered to as Elis II, please use Elis.
His Highness's Personal Device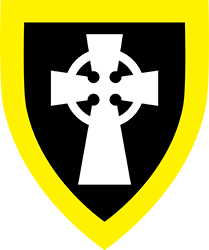 Her Highness's Personal Device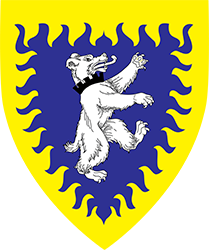 Largess Needs
Rings
Veil Pins
Lampwork beads (small sets on a string)
Stuffed toys for the chest
New comer mugs (pewter, wood, ceramic preferably not glass)
Sewing kits
Needle cases
Hand made books
Personal Requests
His Highness's Requests
Anything Crusader or Scottish
Hospitaller outfit
Cloak and tunic with compass rose
Outfits for His girls, they are sizes 6T (small) and 4T (extra small), used is acceptable
Her Highness's Requests
Woven trim
Early period head coverings
Early period earrings
Temple rings
Veil Pins